Black Friday Special: Limited Time Re-Opening
The Agility World Championship

Experience
The FCI Agility World Championship has a powerful influence on our sport. Each year, as soon as it ends, instructors and competitors around the world set up courses from the event and run them in their yards and practice fields. Judges take elements from the course designs and incorporate them into their own.
---
In this video series, you will get an in-depth look at all four runs at the 2018 FCI Agility World Championship from a medal contender in each of the three height classes: small, medium, and large.
---
Tobias Wüst (Small Dog)
Tobias is the reigning FCI World Champion for small dogs with his Sheltie Dörte, having crushed the field in 2017 by over 2 seconds to capture individual gold. Unbelievably, he was also the FCI World Champion for small dogs with his Sheltie Peanut the year before that. Tobias and Peanut also won the European Open in 2013 and 2014.
Tobias Wüst and Dörte demolishing the small dog field at the 2017 AWC
Jennifer Crank (Medium Dog)
In the past year, Jennifer has won the AKC 16" National Championship, the Westminster 16" Championship, and the Purina Pro Plan Incredible Dog Challenge with her Border Collie P!nk, while medaling at the World Agility Open, making the Challenger round at the AKC National Championship, and winning the USDAA Cynosport 16" Steeplechase with her Sheltie Swift. This will be Swift's first appearance at the AWC. In 2006, Jennifer captured the overall individual silver medal at the FCI Agility World Championship in Switzerland with her Sheltie Guess. She followed that up with the overall individual bronze the following year in Norway.
Jennifer Crank and Swift take first at the 2018 FCI/AKC World Team Tryouts
Jessica Patterson (Large Dog)
Jessica will run two border collies at this event, Trix and Lux. In 2015, Jessica won the European Open with Trix and finished 5th in the overall individual competition at the 2014 FCI Agility World Championship.
Jessica Patterson and Trix with a beautiful run at the 2014 AWC
BONUS: Foundation Training for Backsides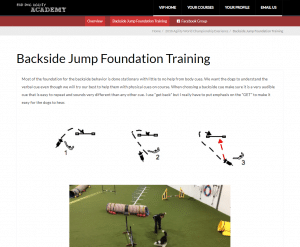 Together with partner Justine Davenport, Jessica Patterson runs Shape Up Agility in Canada. Their handling innovations have influenced handlers throughout the world. As part of the AWC Experience, Jessica will share how she teaches backside jumping to her dogs, from the ground up! Backsides are a fundamental part of international agility course work, and can be found in nearly every championship final in every organization around the world.
For Jessica, the verbal cue is critical as she wants the dog to "understand the verbal cue even though we will try our best to help them with physical cues on course." Does your dog have trouble with commitment to the backside? Does your dog refuse the backside unless you give them a lot of help with your body position and motion? Do you have trouble blind crossing after a backside? Working through the Shape Up foundation method will strengthen your dog's backside understanding and give you more flexibility in your handling.
Black Friday Limited Re-Opening Ends in:
How Does it Work?
Immediately after their runs, Tobias, Jennifer, and Jessica will use the Coach's Eye and take you through the critical handling details of the run, highlighting what went wrong and what went well with an emphasis on their cues, including position, motion, and timing. Every run analysis will be uploaded as quickly as possible so that you can follow the event in close to real-time!
Class Format
Germany's Tobias Wüst will run Sheltie Dörte in the small dog class. Tobias and Dörte are the defending world champion and will be looking to repeat their title win. USA's Jennifer Crank will run Sheltie Swift in the medium class. Jennifer has attending the FCI Agility World Championships 5 times with 3 different dogs. This year will be Swift's first appearance. Canada's Jessica Patterson will run border collies Trix and Lux in the large class. Jessica and Trix won the European Open in 2015; Lux is three years old and will be running at the Agility World Championship for the first time.
Note that Jessica will choose one dog to analyze for each large dog round.
Note that Tobias will record his analysis in German with an English translation.
TBD = To Be Determined
The video series will include:
Black Friday Limited Re-Opening ends on November 26th at 11:59 pm CDT
100% Satisfaction Guaranteed
100% MONEY BACK GUARANTEE
If you're not thrilled with our course, just let us know during the first 7 days and we will give you a full refund, no questions asked.
Frequently Asked Questions
Will you analyze the course maps?
When does registration close?
What equipment/space do I need?
Who do I contact if I'm having trouble registering?
---
P.S. Don't miss this great course that requires NO space and NO equipment! Improve your course planning skills and learn how to analyze runs to get better, faster.
---
Copyright © 2018 Bad Dog Agility LLC